Hi everyone
Last weekend was my favourite Stampin' Up! Event of the year (well it's twice a year so theoretically the second of my favourite events!) I love getting together with my Stampin' Up! family and spending some quality time together.
This year it tied in with my friend, and fellow demo's, birthday (happy birthday Amy!) so we decided to make a full weekend of it.  The Friday night we went for a meal (below pic), Saturday was a full day of Stampin' Up! training and crafting and sneak peeks (Oh my the Spring/Summer catalogue is AMAZING!) and finally on the Sunday we went for a Spa Day which was fabulous!
As you will have seen from my previous posts, part of the SU events involves swapping our crafty makes.  I fancied making something different for my swap this time around and used a non SU product (oops!) to get the finished tag.

I love that with the Foxy Friends stamp set you can create different animals! Love this little reindeer, I can see him being a key feature in my Christmas cards!
This is all of them ready to go!
I hope you like my little tags, I had a lot of fun handing them out and hearing everyone's reactions to them.
If you think that these events are something you'd like to take part in, why not have a look at joining my team? For £99 you get £130 worth of products!
Thanks for stopping by!
Sam xx
Featured products:
<!——–  TAMS Start  ———-><strong> Product List </strong> <br> <table style='border-spacing:0px;border-collapse:colapse;width:738px; border:none;'> <tbody> <tr> <td style='vertical-align: top;border:none;' width='120px'>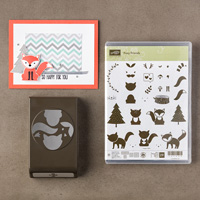 £36.00
</div> </div> </td> <td style='vertical-align: top;border:none;' width='120px'>
£7.25
</div> </div> </td> <td style='vertical-align: top;border:none;' width='120px'>
£8.25
</div> </div> </td> <td style='vertical-align: top;border:none;' width='120px'>
£4.50
</div> </div> </td> <td style='vertical-align: top;border:none;' width='120px'>
£6.00
</div> </div> </td> <td style='vertical-align: top;border:none;' width='120px'>
£6.00
</div> </div> </td> </tr> <tr> <td style='vertical-align: top;border:none;' width='120px'>
£18.00
</div> </div> </td> </tr> </tbody> </table><!——–  TAMS End  ———->